July 15, 2016 we welcomed our first litter of Satin Angora kits.  These two darling does are our next hopefuls.  The red, "Picket" will be staying here.  While, "Katniss" the little Chestnut now lives with a wonderful young lady just down the road.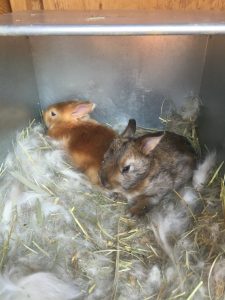 Satin Angora wool is very fine and hard to spin on its own, so we decided to add these sweet Southdown Babydoll Sheep to our farm. This is "Millie" in white and "Luna" in black.  It's amazing how calm and friendly they are.  Even our chickens love them!  You'll find these two sleeping in the sun with chickens perched right on top of them.  So fun!!  They love the sweet grain we feed as treats and come running whenever we're near.  We hope to breed them the end of 2017.  
These three girls are so fun!  We'll be trying our hand at milking, selling goat milk shares and hopefully goat milk products (soaps, lotions, etc.).  "Daisy" (on the far left) is the most agile and loves to play.  "Abby" (in the middle) is quite the magician, you can find her breaking into food bins and is quite the instigator.  Abby's daughter, "Violet" (far right) is the sweetest of the bunch, calm and quiet and always the follower.  We're planning our first breeding of Abby in 2017, with kids due Summer 2017.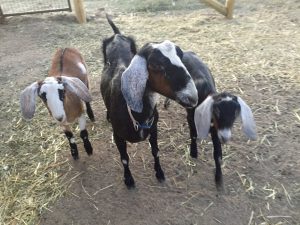 Interested in future goat milk shares, a Nubian kid or Southdown Babydoll Ewe or Ram?  Contact us for more information!