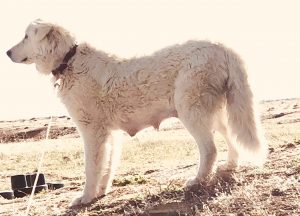 Stoneybrook's Kingdom's Dawn "Selah"
D.O.B. 1/16/17
Maremma Sheepdog Club of America  Registered
Stoneybrook's Kingdom's Dawn , bred by Colleen Williams of Stoneybrook Maremmas, came to us in March of 2017.  We were intent on utilizing only working Livestock Guardian Dogs and Health Tested dogs when searching for a foundation female for our breeding program.  Selah has a calm and confident personality and has always been very mature from the very beginning.  She took to our goats , sheep and Jersey Cow with no trouble and started guarding full time by 6 months and was completely reliable with our bottle babies.  We're hoping she will pass on these wonderful attributes to her future offspring.
---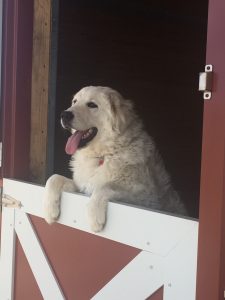 Black Adler's Sundance Kid "Santi"
D.O.B. 9/21/16
Maremma Sheepdog Club of America Registered
Black Adler's Sundance Kid, came to us from Idaho out of Deborah Reid's Maremma Sheepdogs.  Beautiful and health tested dogs, we are so excited to have such a wonderful example of the breed standing at stud.  Friendly and affectionate, yet alert and guarded with strangers.  He is a powerful force at 100lbs and protects his goats and Mini Jersey with care and diligence.
---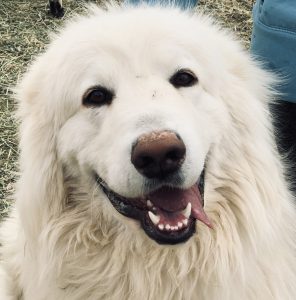 Mario of Wildcat Hollow "Mario"
D.O.B. 12/24/17
Maremma Sheepdog Club of America Registered
Mario is from strong Italian Maremma Abbruzze lines. He has the most laid back of dispositions and you will often find the chickens & goats taking a nap with him.  He runs to greet you and enjoys children of all ages. Always alert and responsive to his stock.