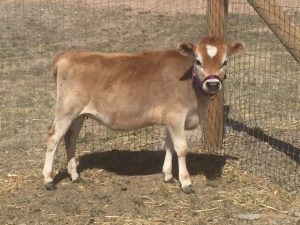 We were so excited for Faith to arrive the second week of April .  The weather was thankfully perfect, because it didn't take but thirty minutes before we were chasing across our neighbor's yard.  Our daughter was walking Faith on the leadline when Faith was spooked by one of our chickens.  Faith may be small, but she is mighty.  She dragged Ella a few feet, before Ella dropped the lead line and the chase was on. We didn't realize how fast cows are, especially young ones!   The sellers were really nice and helped us finally corner Faith near a ravine  at the neighbor's house about a mile away.   Needless to say, our next project is going to be some perimeter fencing for our property to keep all our quick  critters on our property.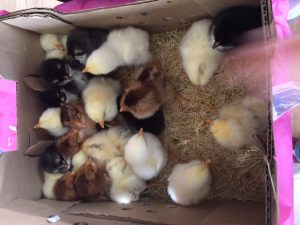 We lost a few nice Marans and needed some good meat chickens, so we invested in 25 new chicks this year.  We decided to go with Delawares this year, as they are a heritage breed known for their good meat and their egg laying abilities. Kids will be putting together a meat pen this year for 4H and hoping this time they will make it to fair.  We tried Freedom Ranger's last year and they maxed out a few weeks before fair and couldn't walk, so we had to butcher them earlier than planned.  These Delawares are meant to be dual purpose, so we're hoping make for better meat birds come fair time.  
Our daughter's Satin Angora  Buck, "Blizzard" took Best of Breed at the Colorado State Convention in Gunnison, Colorado.  While our son's Holland Lop Buck, "Justice" took a nice 2nd at the Holland Lop Specialty Show against many beautiful Holland's.  
Stay tuned, as we are anticipating a nice litter of Holland's and Satin Angora's in the coming weeks.